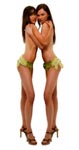 After being tempted by a pair of vegetarian hotties, I was drawn into the far left world of radical resistance.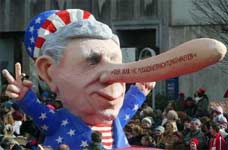 I voiced my political opinion in the form of a giant, paper-mache figure of Dubyah, which dropped down from the ceiling during a Democratic Debate. The crowd loved it, but sadly, it crushed Dennis Kusinich and I was forced to go into hidding.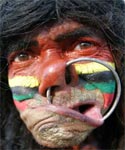 I did find love though. Not a slave to sexist fashion, my girlfriend has a more "traditional" approach to bodily decoration.