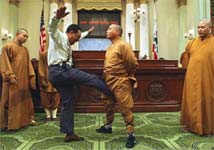 "So you're non-violent, right bathrobe-boy? Well what if I do THIS (wump) you bald-headed bastard? That's right, go crying back to your monestary you little bitch."

My karma took a dive after that.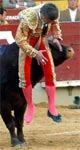 I was later reincarnated as a Bullfighter with no depth perception, resulting in my ass getting kicked by the bull regularly.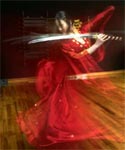 I was also haunted by a sword-wielding ghost, which would leap out during scary movies and frighten the beejesus out of me.

But it was worth it to see that f*cking monk cry like a girl.