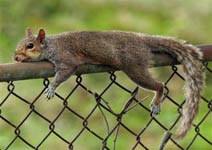 "Trouble." Muttered Lil to me as we left our hotel (knennel) the following morning. Someone had left N.Utter strung up across the street.

"D*mn, how'd they find us?" I asked, hurrying down an alley and out of line of sight.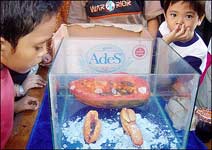 "Maybe they've been watching us since we arrived?" Lil suggested.

It was true that not all of the S.U.N.F.L.O.W.E.R. operatives native to the Canary Islands had been picked up. I turned that unpleasant possiblity over and over in my head, and found it stank as badly as rotting deformed papaya.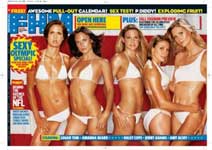 "We need back up." I finally decided.

Lil groaned.

"You're not going to ask Agent JulieK to help out are you?"

"Yes. And Agents Lauren, Luminaire, Carol, and Superwoman Biatch. I'm gonna need help from the Fab Five if we're going to crush S.U.N.F.L.O.W.E.R. once and for all."

"But I still look like a mutant!" Lil wailed.

"Believe me, if it's true love, she'll love you no matter what you look like." I told the pwca, then scratched at an itch. "I'm more worried about getting a flea dip before they arrive."