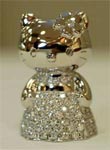 Dear Abby:

What ever happened to Chelsea Clinton?

Sincerely, Poopsie the reflecting kitten thing.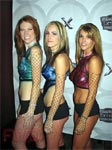 Well, Poopsie, after graduating from college, Chelsea persued a career in exhibitionism. Here she is, on the left, working as one of the "Extreme Vodka" girls.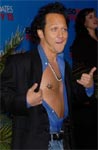 She recently proposed marriage to comedian Rob Schneider, who lovingly accepted her engagement nipple star.

Hope this helps,
Abby.