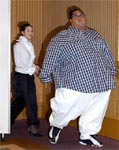 I hoped to create a caption
set that would not make him seem like an animal.
Is he not capable of love
Though his body is large?
It is his secret sorrow
that attracted this beauty.



There is indeed beauty
even in the simple captions
at MostEmailed. To our sorrow
It is too often the animal
picture or the large
and ugly that Yahoo emailers love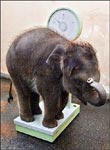 How can you not love
this simple, natural beauty?
He is, of course, large,
but at the same time, small. A good caption
will give us an idea of how the animal
truly feels. Is it sorrow?


My own sorrow
is that we do not love
the Earth's animals
more. It is their beauty
that this caption
seeks to encapsulate. A task too large.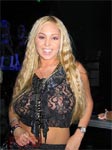 Her breasts are large,
yes, but her life surely includes sorrow.
Her exploitation is why this caption
exists. The act of love
performed without a sense of beauty
is merely the act of an animal.

But would an animal
seek to enlarge
parts of its body simply for beauty?
This is the sorrow
of man, that love
is never enough. Otherwise, I would not caption.