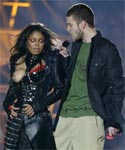 Justin(to himself): "WTF? Here I am performing at the Super Bowl and this bitch comes out looking like a cross between Trinity from the Matrix and a damn stripper."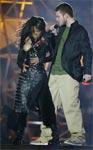 JT (out loud): "Oh great. Let's flash everyone in America. There goes my McDonalds endorsement, you washed-up slut!"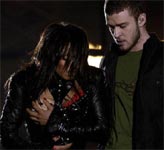 Janet: "Uhhh, Justin? I hate to point this out, you hip-hop imitating Mouseketeer, but your baggy pants fell down. Now America knows why Brittany left you, little boy."