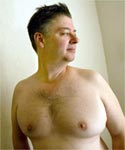 If I had three wishes? That would be kewl. Er...

I'd get boobs. Like, you always wanna feel boobs, right? So if I had my own boobs, I could like feel them ANY time.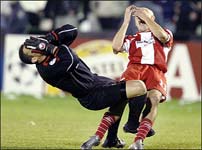 And I'd wish for the power to just point at the TV when I'm watching a match, and just kill any player I don't like.

Shazam assholes!!!! Drop dead!!!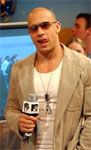 And I'd want a shaved head and shades and nice clothes and shit. And a kewl job, like stand-up comedian. If people don't laugh at my jokes I can say Shazam asshole!!! You die now!!! Your date is now my date!

But maybe the boobs would screw up that whole career, I dunno.

OK, cancel the boobs. I wanna tongue that can lick my eyebrows.