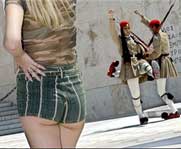 Fear and Loathing on the Internet, not by Hunter S. Thompson:

I had already downed my fourth crystal meth with the two LSD tab chaser while waiting for my windows broswer to update so I could get back to the sweet siren song of free internet porn. Suddenly the kilt wearing Microsoft stormtroopers burst through my door, threatening to register me for Passport and steal my iPod.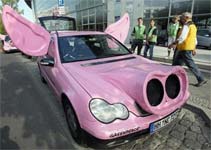 I had no choice but to make my escape through the back door, but the pigs had my place surrounded. I thought about pulling the Area-51 lightgun from my back pocket, but then my car spoke to me. "Oink" it hooted in a way that was too profound to mean anything but "your seatbelt is not fastened." Damn, but I needed more gin, and fast.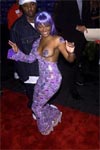 I turned and fled back into the house. The kilt cops were gone for the moment and I turned to my computer. Windows had finished updating and I was back online. My cable modem let me vew porn fifty times faster than dialup and soon I was lost in a dizzying purple haze of half naked woman and California politics. Life was good... for the moment.