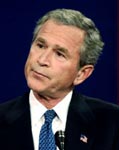 On the next episode of "I Dream of GeeBee", our adorable Dubya is faced with terrorism, an environmental crisis, and a stubborn Democratic challenger.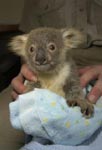 But, as always, he finds a way to set things right. With a nod of his head and a blink of his eye, endangered animals become cute, highly-trained Terrorist Hunters...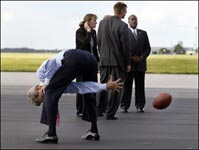 and a picture of his opponent mooning a flock of reporters tops the list of Yahoo's Most Emailed Photos.