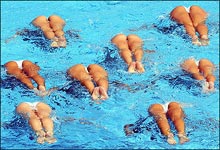 From the AP:
"CHINA---According to latest reports, a low-flying United States spy plane inadvertently struck several sea shore workers early Thursday morning, knocking them unconscious and into the water. No survivors are reported, the workers having drowned soon after being hit."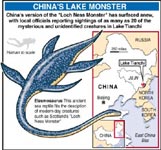 According to a friend of mine who lives in the area,
the casualties were spotted a few hours later by a group of hooky-playing schoolchildren. The bodies were already beginning to bloat and change color, so when the kids spotted the mass of bodies floating about, their young minds imagined they were seeing Hui-neng, a "loch ness" fiction traditionally spread by local fishermen to discourage competition and tourism.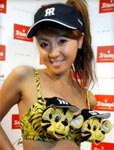 The Chinese government, not known for taking humiliation from the U.S. lightly, have put their foremost sleeper spy on full alert. When this stunning tigress growls, few men find themselves able to keep information---or their "packages"---on ice.