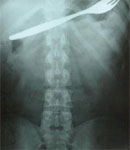 Medical X-ray: November 20, 2000

Recently released CIA documents regarding then Vice Presidential candidate Dick Cheney's "mild heart attack" of November, 2000 suggest strong links to an Al Qaeda
cell operating out of a Manhattan deli, said White House spokesman Ari Fleischer in a press conference earlier today. "It's certainly no secret that Vice President Cheney is a great lover of falafel, as well as the Arab people. But let the facts speak for themselves – an extra-large vegetarian platter, served 'on the house,' clear images of a plastic fork lodged in the Vice President's cardio-vascular system, a waiter operating under the name 'Mustafa.' You do the math." The owners of the deli were unavailable for comment.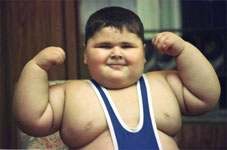 Photo: July 4, 1951

Dick Cheney flexes his American muscle on Independence Day.
"Oh my, yes, he so enjoyed that little wrestling outfit we got him for Christmas!" recalled mother Marjorie Cheney in an interview. "Little Dick would put something inspiring by Wagner on the record player and just march around the living room for hours, reciting Nietzsche. What was that line he used to sing so often? 'For there is a salt which blends good and evil…and even the most evil thing is worthy, as it adds spice and makes everything spill over in a froth.' Something like that. His father always told him he was destined for greatness."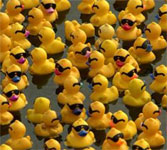 Photo: May 10, 1961

The prank that earned Cheney the moniker "Rubber Dickie" and brought his enrollment at Yale to an abrupt end. "It was all a bit creepy if you ask me," said a former classmate. "All of those rubber duckies floating in a baby pool with gas masks painted on them. Dick sitting in the middle of it all, splashing around. Nobody had the slightest idea what he was getting at. And that wrestling suit! Ugh!"