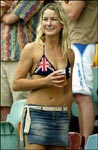 They say that clothes make the man (or woman as the case may be). Take Meredith here, her outfit says, 'Aussie beach slut'. Excellent use of the cup of beer as an acesseory, Meredith.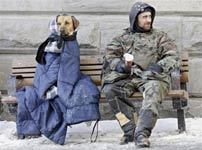 Oh dear, here we have an example of trying too hard. The look he's going for is homeless bum, but by dolling up his human in heavy weather gear he completely ruins the destitue effect he's aiming for.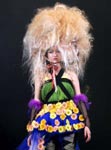 Ah! What a wonderful specimen of the fashion-challenged! (also known as; SciFi Con Costume) Look at the flowers, and how well they clash with the gloves. A wonderful attempt to recreate a Xanth novel character. Bravo!