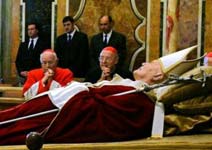 The body of rap star JP2 lies in state at his Italian crib. His homies gather to give him his props.

JP2, the original "boy in da hood", founded the label Death Rocks! Records.

He had both admirers and detractors.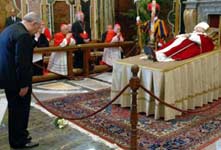 His bravery was never in question; during a bitter feud between the East Bloc and West Bloc, he boldly visited the other crew's turf. An assassination attempt followed.

But his attitude towards women was the most backward of all rappers. He banned them from management positions at Death Rocks!, and his videos contain no erotic butt-wiggling.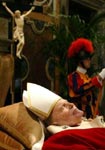 His last LP, "The Notorious P.O.P.E." mocked the stars who shared the world stage with him, especially the single "Da Winner Dies With Da Most Toys"

"Hey, motherfucker! Gorbachev!
Yo country gone bust, what ya livin' off?
We got bling, we got cash, jacked it in the Crusades,
Now that Dubya bitch rips all the moves that we made"