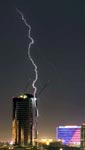 I told my wife, "I tripped and my pants fell down to my ankles and the only thing that saved me was my ability to pull myself up by my dick...repeatedly." "Yeah, right!" she replied. "Honestly!", I retorted, "If that is not the truth, then may God strike me with lightning."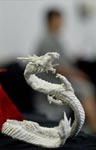 Well, now I sit, depressed and horribly disfigured, seperated from my "little love dragon". My wife won't let me have it when she is out.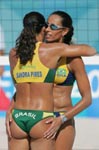 And I can't watch beach volleyball on TV anymore.

Sigh.