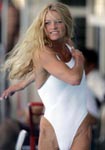 "Here comes Agent JulieK." Agent Lauren said as Lil dove for cover.

"Oh for pity's sake." I chided the pwca and stood to greet my fellow agent.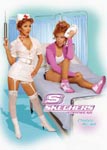 "Hi gals! ...Uh, Kumi?" Agent JulieK glanced down at me.

"In the fur. How was your flight it?" I asked, my tail wagging.

"It was okay, although I don't recommend the inflight movie."

"Oh?" Agent Lauren asked.

"Yeah, Sketchers starring Chirstina Aguilera and her clones."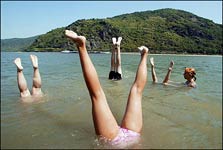 "Wait, I thought that was soft core porn." Agent Carol objected.

"Given that all the other passengers were the mens sychonized swimming team, it probably seemed appropriate." Agent JulieK sat down with a sigh.