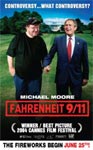 My parents were an odd couple: bitter enemies in the public, who led a loving, if somewhat non-traditional, marriage in private. No one in the world knew about their affections, and I was adopted and raised in secret.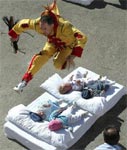 In addition to the isolation, they also subjected me and my three clone-brothers to bizarre Satanic rituals to prepare us to become the Four Horsemen of the Apocolpyse.

Whatever. All I wanted was for them to come to my kindergarden class play.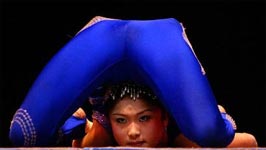 So because of all that wacky stuff, I've now got a weird compulsion to put on exotic makeup and show my woo-haa to complete strangers on the subway.

WHY COULDN'T YOU JUST LOVE ME, MOMMY AND DADDY!