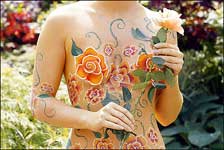 "Wow, its a great day to be naked and ..... OH MY GOD! SOMEONE HAS PAINTED FLOWERS ON MY TITTIES! OH FUCK! THE HUMANITY!!!!!"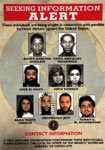 In a flash, the usually suspects were rounded up. To no one's great suprise, Elvis and I were on the top tier of suspects. While HE was inocent (of this titty-painting anyway), I had to contend with the problem of a sole witness to my crime.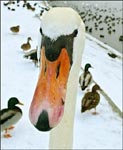 But I'm not worried anymore. Let's just say that THAT motherf*cking goose isn't going to be honking ANYTHING anytime soon.

Coincidentally, I have lots of foi gras and gibblet gravy in the fridge if anyone wants a snack.