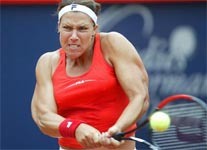 My palaver with Fritz Uberschwanzeestein left me woozy, and I wandered for weeks, in a fugue of furry animals, shaved pups, and screaming chinchillas.

Suddenly I found myself fully awake, startled by the THWOCK! of a tennis slam and the scary image of what appeared to be a mutant cyborg on the ladies' court.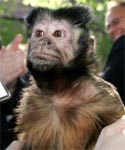 The little hairs on the back of my neck rose as I glanced to my right . . the mutant on the court was not the only one! "Pay attention to the game!, Danger," he whispered, "and keep your nosy peepers off me! If you need a lead, find Ahmed at the half-time show!"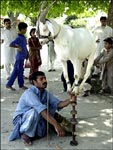 Browsing around the half-time sideshow, I found Ahmed, an Afghani practicing techniques of goat torture. "Don't let me interrupt ya," I said. "Just tell me where the puppy cartel does business. And remember, I spell my name 'Danger'!"