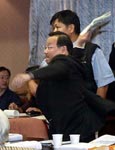 Well, this is certainly unusual. Boston has pulled its star pitcher, Pedro Martinez, and replaced him with Hitachi Data Systems' CEO, Shinjiro Iwata.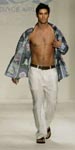 Iwata has managed to walk the last seven batters on the St. Louis Cardinals, giving up 3 runs, and seriously hurting Boston's chances here.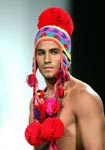 It looks like Shinjiro Iwata is going to be replaced by tribal chief I'k Tk'nängö.