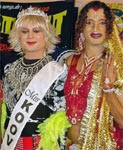 Once again, the Miss Koovookistan Pageant has brought beauties of us to all the world's peoples! Our winner, Nuttasha Grmnskya, was most beautiful than her running-up, Dolya the Mannequin.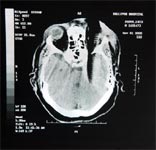 Judges ruled that Dolya's brain scan disqualified her for being a cutie pie with a head full of styrofoam.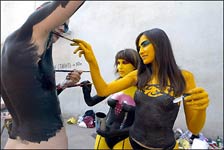 Nuttasha is to be very thrilled, having for free date the Americansk star Marilyn Manson, here being prepared with a coating of bear grease.