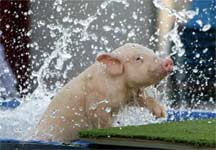 Having escaped the exploding planet of Krypton, Ko-Shir, the Superpig, flew out of the ocean where his spacecraft had landed.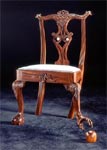 Already the forces of evil were aligned against him. Lex Luthor's dining room chair reached for "The Apple of Kryptonite" which it intended to stick in Superpig's mouth.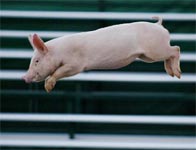 With a mighty leap, Superpig escaped into the livingroom.

"I'll admit defeat when pigs can fly," shouted the dining room chair!