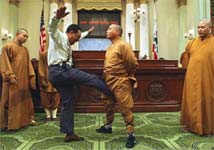 Hmm... how to get out of this interminable monk meeting to dash off and rescue legendary bullfighter El Cordobés from glamorous international assassins? Something subtle...
   
"HYAAA!... oooff... Say, gimme back my shoe!... Oh, never mind..."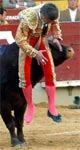 Damn, I should have stayed and got my shoe... and who took my sword? I'm such a miserable failure...
OH, THE DESPAIR!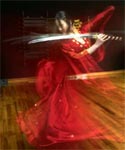 "There, there. Just try to hold still, dear. Kumiho will make it all better."